Doc's Dee Bar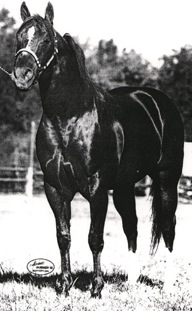 DOC'S DEE BAR
"A Champion That Sired Champions"
(adapted from a 1981 Continental Horseman article by Lyn Jank)
One mellow night in April, 1962, a two-year-old filly, Laura Tivio by Pura was minding her own business in her own pasture, when the sound of hoofbeats attracted her attention, and she lifted her head. A stallion a swift silhouette in the moonlight was making a determined approach. Doc Bar, never known for being a slow thinker, had opened all his gates and was on the loose, looking for a diversion in general and a pasture romance in particular.
March 31, 1963, the result of the affaire de coeur took his first look at the world in California: Doc's Dee Bar, a copper-bright sorrel with hind stockings and a strip. Thirty days later a trainer who had been in the business full-time for only a short while appeared at C.G. "Charlie" Araujo's ranch in Cling and saw Doc's Dee Bar for the first time.
Don Avila: "I was there to pick up a horse for customer of mine, and there the foal was, in the pasture with his mother. I couldn't take my eyes off of him. He was shining like a new penny. He was a sharp kind of colt, looked like a miniature Quarter Horse, he strutted around like a proud peacock. The biggest thought in my mind was that there he was, on the ground, and nobody had planned for it, Doc Bar had just done it himself."
"Next time I saw Dee Bar was in Napa, California, when he was shown as a weanling and won his class. Then I saw him about four and a half months later at a show in Santa Rosa. He was Grand Champion of that one, the first yearling ever to go Grand in California.
"In '65 when Doc's Dee Bar was two, I was working for some nice businessmen who told me to buy them a winner, one that could come out first just about over anything. I had only one in mind. Luckily, Doc's Dee Bar could be had for a price, and they bought him. From then on nobody ever handled him but me."
Lady Luck was not kind to those who purchased Doc's Dee Bar. One died in a plane crash. The other suffered a mortal heart attack. Eventually the remaining two were forced to curtail some of their activities, and their horse interests were among the first to go. Not without financial hardship, Don Avila had picked up the first two shares in the stallion, then, with the help of Bank of America, he became sole owner of Doc's Dee Bar.
As a two-year-old, and under Don's guidance, Doc's Dee Bar was Pacific Coast Junior Halter Champion. Toward the end of the year, the colt appeared under saddle for the first time, in AQHA Western Pleasure classes. Not long after Doc's Dee Bar turned three in 1966, he was awarded his AQHA Championship. Don Avila then bred thirty-four mares to him, live cover.
In 1967, Dee Bar's mother, Laura Tivio, was shown at halter for the first time as a seven- year-old. She went Grand as a broodmare at the Cow Palace. During the same show, her granddaughter and Doc's Dee Bar's first foal, Dee Bar Belle, won the weanling class. The sorrel filly subsequently became a Superior Halter Horse, earned her Arena ROM and is an AQHA Champion today.
While his mother and daughter were taking their wins in the California circuit, Doc's Dee Bar rested, though he still received a few mares in his court, and reported to his owner for roping lessons.
In 1968, when Dee Bar was five, Don moved from San Joe, California, to Eugene, Oregon. The following year, Doc's Dee Bar was Oregon's high point Performance and Halter Stallion. He claimed titles for the following year and was also Oregon's all-around working horse. All in all, he won eight saddle events in 1968; fourteen, in 1969.
Don retired Doc's Dee Bar after his Oregon wins, then returned him to competition in 1972 "because cutting was becoming so strong and I wanted Dee Bar to have a shot at it. I think he could have made a name for himself in it, but the breeding got too heavy. We were going A.I. by then and bred a hundred mares to him. I didn't think it was fair to him, so he was retired for good."
By the mid 1970s Doc's Dee Bar offspring were excelling everywhere, and one was I'm a Dee Bar, a six-year-old sorrel gelding by Doc's Dee Bar out of Buzzie Chimes. With Don Avila's son, Bobby, abroad, I'm A Dee Bar also known as "Smoothie" went down in history books as Honor Roll Working cowhorse during the Bi-Centennial year. "Smoothie retired from his arena wars in 1979 as and AQHA Champion and Youth AQHA Champion, with a total of 61 halter points, and 283 performance points.
When one man and one horse team up together, shoot it all, and make it, over a long period of years, the two-legged member of the partnership usually becomes prey to deep feelings about the horse and Don Avila is no exception. Once, when asked about the stallion, Don Avila said, That Old saying "out of the Many will always come one," can only be understood by somebody who has been fortunate enough to have a once-in-a- lifetime horse.
"Doc's Dee Bar is mine."